By admin / 05 March 2021
Have you all noticed that now a day Rooftop Solar is the new concept that has caught the attention of Solar Industry watchers? After huge hurdle towards utility scale of solar power plants in India, now customers are finally moving to the untouched market of rooftop solar power plants in India. The change in direction may seem simplistic to a layman, but this change entails an excess of disclosure and challenges. Installation of Rooftop Solar Plants on a large scale is one of the best initiatives. In rooftop installation there is no requirement of land. Now a day to promote the same in large-scale Government has introduced a subsidy scheme for solar rooftops in residential sector called as "SURYA - Gujarat" (Surya Urja Rooftop Yojana-Gujarat). In a solar rooftop system, the solar panels are installed on the roof of any residential, commercial, institutional and industrial buildings. This can be of two types (i) Solar Rooftop System with storage facility using battery, and (ii) Grid Connected Solar Rooftop System.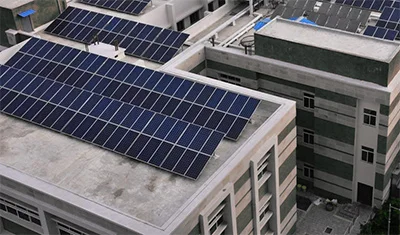 Types of Solar Rooftop System offered by Grace
On-grid Solar Rooftop System
Off-grid Solar Rooftop System
Hybrid Solar Rooftop System
Net Metering
Our customers can avail the State subsidy of 40% for solar rooftop system upto 3kw and 20% for solar rooftop systems beyond 3kw upto 10kw which can be installed and commissioned by private residential customers. Further any capacity of solar rooftop system equal to or greater than one kw DC can be installed irrespective of the sanctioned load of the customer. The maximum limit of subsidy capacity is of 10kw.
Why Grace Renewable Energy to be Chosen for Rooftop Solar System
Graciously construct state of the art ROI rather than quality.
Wide Presence All Over Gujarat
Use of only world class / High end Modules and components
Guaranteed plant performance leads to 100% customer satisfaction
Experienced team with hands on experience of 25 years in solar rooftop installations
Safety is our No 1 priority
60,000 KWP Installation So Far
Take on huge investments on Electricity Bill & great Investment towards the Future with Few steps
Contact us for further details
Get your site analysis with assessment
Complete the documentation process and get approved
Install Solar Rooftop and start saving in your bill
You Can Avail the Solar Rooftop Service in Gujarat
Ahmedabad
Surat
Vadodara
Rajkot
Bhavnagar
Jamnagar
Junagadh
Anand
Navsari
Surendranagar
Morbi
Gandhidham
Nadiad
Bharuch
Porbandar