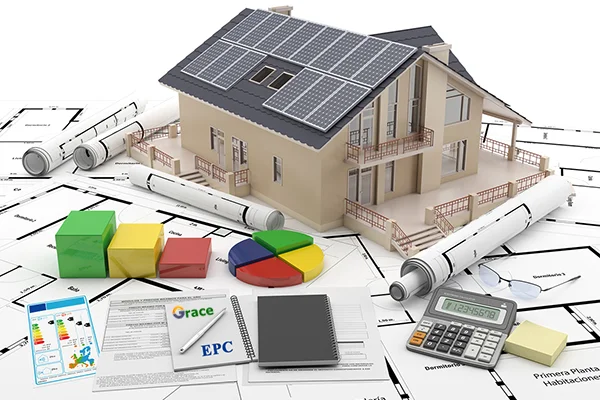 In addition to manufacturing large solar panel systems, Grace is equally active in the EPC project development, wherein we inspect, design and then construct the solar panel system that is strongly capable to harvest maximum electricity for the respective application. The first step of our EPC project, EPC Contractor For Solar, Solar EPC Contractors for Solar Projects is inspect the area of application and take reasonable factors into account to outline a plan. Further, we develop a design employing top notch technology that helps to yield best possible solar energy through solar panel system. Once the design is procured, we begin to construct an entire solar panel system on the respective site and endeavor to complete in the stated time line.
The state of the art in-house facilities and workforce has empowered Grace to deliver end to end solar project development and EPC solution for any size of the requirement in the residential, industrial and utility sectors.
EPC Contractor For Solar / Solar EPC Contractor
Grace Renewable Energy is the project partner and primarily responsible for the Engineering, Procurement and Construction of the Plant. EPC Contractor for solar includes selecting the suppliers of solar modules, inverters and other diverse key items of equipments that are required and finalizing the final design and give the final output projection to the clients. The appointed Solar EPC Contractor works as the mediator between the clients and us. Further to fulfill the role of prime contractor, many EPCs will in turn appoint subcontractors to handle much of the construction work that are typically divided between mechanical and electrical activities. The EPC Contractors are usually appointed by the project developer or the owner of the organization.
With the extended in-house designing and construction team, we endeavor to use our specialized understanding and industry know-how to build up the most cost-effective and energy productive PV solar plants in the industry. Very speedy project consummation time and industry high generation levels are reflective of the amazing standards set by Grace. Our world-class project management team guarantees for the completion of the EPC project in the quickest possible time without settling on quality. We help clients trying to utilize solar power directly from the planning stage through the whole operational existence of the project. This includes giving our clients a total budgetary return and income investigation of the Solar EPC project undertaking including advisory services that help clients explore all government policy issues, land acquirement issues, tax reductions, sponsorships and administrative endorsements to effectively introduce solar based photovoltaic plants.
Turnkey EPC Solution Provider
We provide reliable turnkey services to build large scale grid connected solar power plants for developers and big commercial organizations. We are indulged in offering Turkey EPC Solution Provider for world class project management services to deploy high performing projects on the ground mounted and rooftop systems for in-house and third party projects. This includes:
Design and engineering works of solar plant installation using different technology
Proper selection of Equipment and Procurement
Equity participation in projects on case-to-case basis
Complete O&M services after commissioning
Erection and commissioning (including transmission/evacuation infrastructure)
Gaining all permits and clearances associated to solar power project development
We at Grace have placed a strong team of solar power project development specialists
Top Solar EPC Provider Company
Grace Renewable – is well-known Top Solar EPC Provider Company in India.
Do you wish to invest in a full-fledged EPC Solar Provider Company in India for your solar products? Are you looking for the best Solar EPC manufacturers in the Country? Then you're at the right place Grace Renewable Pvt. Ltd. Solar EPC means companies fully responsible for design, procurement, construction, and handover of the products.
As now a day EPC Companies are multitasking and you will find plenty of them in your nearest areas. They engross themselves in the processes from the set up till the very end. You certainly earn the best so we have brought you the best companies to choose from. There are thousands of EPC solar contractors in our country that serves the best products. But it is really important to invest in a company that will provide you the quality product at an affordable rate. Therefore, to save you from the effort we have brought you the best Solar EPC Company – Grace Renewable in India that you can consider.
Solar Power Consultant
Grace Renewable – Solar Power Consultant is a leading power plant consulting organization based at Ahmedabad, India. Grace has executed diverse projects of Solar Power Plant on various fuels and in various industries. We have a strong hold on Solar EPC Project Consultant and highly experienced and motivated team of professionals having rich experience in energy sector.
We are providing the consulting services for the investors of power sector, about understanding minute details of power generation project considering enormousness of the project task and finance related with it. As it is known selecting the right place, location and understanding local geopolitical environment, installing and commissioning of the project is no doubt crucial tasks to consider while investing into Solar PV or Solar Thermal Project specifically.
We take care of all the guidelines with Pros and Cons of each state level and Central Solar power generation policy before the installation.
We are offering the full Project Highlights with overview of Solar PV, Solar Thermal or Wind Power Project including project budget, equity, debt, ROI
Detailed project report includes nitty gritty details of project technology behind every solution
Detailed explanation of Government policies of each state and Central Government including forthcoming opportunities
Details who, where, when, how and why of Government departments functions
Clear marked expenses and cost on time scale related to project advancements
Finding right EPC services to match budget and project needs as contractor or as shared equity investor
Project maintenance and payment channel set up as per the Government